Only moving charges (i.e. currents) generate and feel magnetic fields
The field is "real" and the key object (just like for electricity)
Moving charges make fields which can then exert forces on other moving charges
Use your right hand: thumb in current ( or  ), fingers in 
For the direction of a magnetic field, fingers curl in direction of
is another universal constant like , , , and
For the force, palm "pushes" in the direction of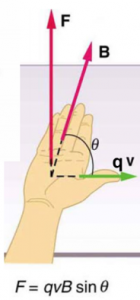 or 
Result is particles in uniform move in circles!!