20

Reproductive Rights: A Solution, Not a Political Issue

A Solution, Not a Political Issue

Margaret M. Davis
Click to listen to this essay
The intent of Davis's essay is clear: women should be in control of their own reproductive rights. Davis uses a combination of research and personal anecdotes to illustrate the negative impacts for women without reproductive rights and highlights those fighting for these rights. The images provided throughout the essay are effective in playing with formatting and stretching the limits of what a standard academic essay can look like. One of the most interesting aspects of this piece is Davis's use of social media (Facebook in particular) as a form of research material. Davis observes that people use social media to create a conversation where "each person contributes their own voices to the dialogue at hand." In doing so, Davis emphasizes how social media becomes a means for advocacy where the public are social writers.
---
Margaret Davis
Instructor
ENGLWRIT 112: College Writing
Day Month Year
Reproductive Rights: A Solution, Not a Political Issue
The right to have a family, be given information on where to get help, and decide what to do with one's own body should not be something a woman has to fight for. The World Health Organization defines reproductive rights as "the recognition of the basic right of all couples and individuals to decide freely and responsibly the number, spacing and timing of their children and to have the information and means to do so, and the right to attain the highest standard of sexual and reproductive health" ("Reproductive Health"). For women, these rights sometimes include: the right to legal and safe abortion, the right to birth control, the right to education and access in order to make free and informed choices, and many more. Yet what seem like basic rights women should have are, in fact, not actually enforced.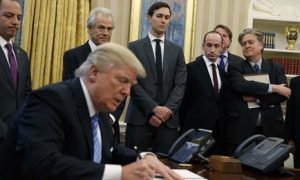 Many of the current policies for reproductive rights are at the state level, but President Trump has taken away some of these rights altogether. President Trump and the administration he appointed in the Department of Health and Human Services issued new rules making it no longer mandatory for health care insurance to cover birth control, claiming 99.9% of women will be unaffected by this change, even though over 55 million women have access to birth control for free because access to it is mandatory as stated by existing policies (Goldstein et al.). President Trump described it as stripping the new health care bill of "essential benefits" in an aim to repeal Obamacare (Pear et al.). His words are only directed to the beneficiaries of this policy and states this is a "win for religious liberty," yet he completely ignores the female employees that this mandate will affect (Pear et al.). What is even more concerning is that women are not involved in making these decisions. People retweeted a picture of President Trump, along with former White House Chief of Staff Reince Priebus; Director of the National Trade Council Peter Navarro; President Trump's advisor and son-in-law Jared Kushner; Senior Advisor to the President Stephen Miller; and former White House Chief Strategist Steve Bannon, reinstituting the global gag rule removing U.S. funding to any organizations in developing nations that offer abortions even if the organization provides those services with their own funding (Nikolau) (see fig.1). Although this issue expands further than just birth control and covering abortion rights or other means of preventative care, this issue affects 50% of the population making it a huge concern for many.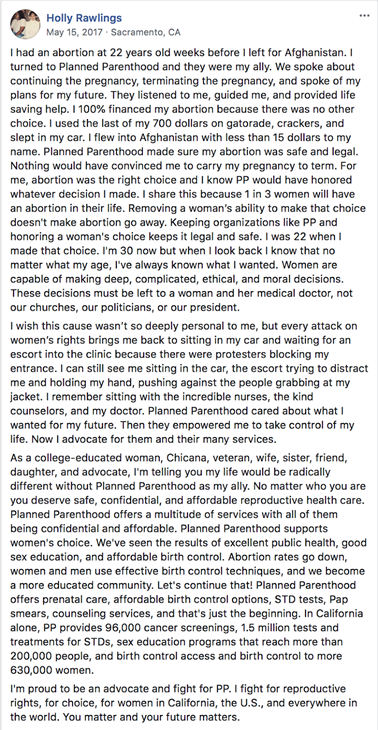 Reproductive rights should not be a political issue; it should be a solution for all women and their decision to do what they want with their bodies. As a young woman, I fear what President Trump and his administration might do to many of my rights. President Trump has made it no longer mandatory for insurance companies to provide women with birth control coverage and is trying to ban abortions for good. I decided to get the arm implant as a form of birth control and without insurance coverage, the device and the procedure would cost over a thousand dollars. For many, including myself, birth control is not only used to prevent unintentional pregnancies, but to manage period symptoms. Many men do not see birth control as necessary, but for some women, it is a treatment for health conditions such as premenstrual dysmorphic disorder or endometriosis. Because of President Trump's new insurance policy, millions of women will be paying out of pocket for something to simply ease their daily life or make their periods even somewhat bearable. I remember many of my friends rushing to get some form of birth control right after Trump was elected before he could change the insurance policies. It was astonishing to see so many women scared for something that seems like such a basic right. It was an eye-opener for me because I never thought some of these basic rights about my body could be threatened until then. This policy is important for not only me, but half the world's population – even if they are not under President Trump's administration. The right to make choices for one's own body is not ever something that should be debated by a room of a handful of men. Even in a developing nation, women should never feel their bodies are being controlled by anyone but themselves, which the current policies at hand are overstepping.
I searched Facebook for posts regarding reproductive rights around 2016 to the present, and I found three main types of posts: personal stories, concerns for the future, and posts educating the public. The message of each of those stories was the same though: reproductive rights is a choice they should have no matter what. The majority of the personal stories and concerns I found were specifically in the Facebook group, "Pantsuit Nation." This group is a safe space for many women (and some men) to post their stories and their concerns to share with over a million others around the world. One example is a story posted by Holly Rawlings (see fig. 2). Rawlings includes personal details about the decisions she faced and what factors contributed to the decision she made in the end. Stories like these using emotional appeal get both women and men reacting and supporting the person posting. Many others in Pantsuit Nation have posted their stories about going through abortions (some legal, some not) and how the legal issues around it impacted their lives for better or for worse. Other stories included how birth control has saved their lives quite literally for health reasons. By posting as a Facebook post specifically in Pantsuit Nation rather than a tweet or on their wall, these women open up completely allowing the audience to be impacted more by their words.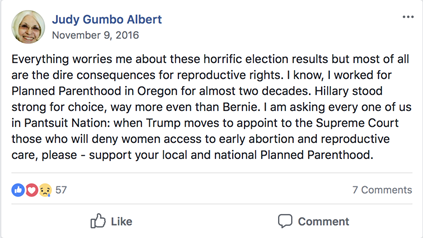 The other type of posts I saw were about the public's concerns about new policies regarding women's rights and other politicians trying to educate the public about what is really happening. Judy Gumbo Albert voices her concern and asks people to support Planned Parenthood (see fig. 3). Albert, like many, is speaking out in order to gain support or voice an opinion. Some of the more educational posts, like one by Senator Elizabeth Warren, use the logical appeal and include facts like "Contraception not only prevents pregnancy and helps control health conditions – it gives women more chances to go to school, get jobs, create businesses, and grow our economy" (Warren). The logical appeal in conjunction with personal anecdotes of what society used to be like before all of the progress that has been made makes the reader critically reflect on the past and where we stand now. Their posts also seemed more hopeful, sometimes saying, "we must take action" or "we can't go back to the days where women didn't have these rights." Again, using Facebook posts as their mediums allows the public to respond easily and voice their opinions. It is a less formal way of writing, but a conversation is still being had where each person contributes their own voices to the dialogue at hand.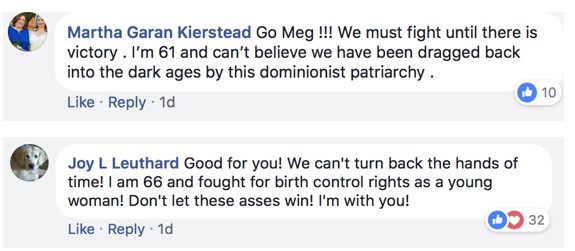 After posting in Pantsuit Nation, over 3.5K people liked my post and 490 people have commented or responded to comments made (see fig. 4). Many of the comments were in agreement with my post saying, "Stay strong braveheart!" and "You go woman <3!" It was amazing to see that much support on a post that I was simply passionate about. It was also amazing to see the different perspectives people had. Women from different generations who lived during a time where birth control was illegal unless they were married responded. Other people also opened the conversation to the double standard for men: Viagra, a hormone regulator for men, is apparently covered by Medicaid. It was an astonishing experience to see in real time people adding their opinions to an existing conversation and how many women are impacted by the policy initiated by President Trump and his administration.
The right to make choices about one's own body should never be questioned or threatened, but unfortunately, we are seeing this all around the world. Abortions, in particular, are an area of concern. Many pro-life supporters are shaming women about getting abortions, even if it is a life-threatening condition or they know they cannot support a child at that stage in their life. And when it is illegal, women still go through with abortions, only it typically is unsafe and can permanently injure them. In the most extreme, women have their boyfriends punch them in the stomach or insert knitting needles into their vagina, or even throw themselves down the stairs in order to miscarry. But the most effective way to reduce abortions is in fact to provide women effective birth control. Seems circular, right? That's because it is. According to Planned Parenthood, over 2.2 million unplanned pregnancies are prevented each year from family planning services available through Medicaid and Title X of the Public Health Service Act, and the number of abortions in the U.S. would be two-thirds higher than it is now without these services. Millions of women are greatly impacted without these reproductive rights, and it should be a crime to let men dictate our access to basic health care.
Works Cited
Goldstein, Amy, et al. "Trump administration narrows Affordable Care Act's contraceptive mandate." The Washington Post, 6 Oct. 2017, https://www.washingtonpost.com/national/health-science/trump-administration-could-narrow-affordable-care-acts-contraception-mandate/2017/10/05/16139400-a9f0-11e7-92d1-58c702d2d975_story.html?utm_term=.ca7b622775aa.
Pear, Robert, et al. "Trump Administration Rolls Back Birth Control Mandate." The New York Times, 6 Oct. 2017, https://www.nytimes.com/2017/10/06/us/politics/trump-contraception-birth-control.html.
"Reproductive Health." World Health Organization, 2018, http://www.who.int/topics/reproductive_health/en/.
Warren, Elizabeth. Addressing President Trump's attack on ACA's birth control mandate. Facebook, 16 Oct. 2017, https://www.facebook.com/plugins/post.php?href=https%3A%2F%2Fwww.facebook.com%2Fsenatorelizabethwarren%2Fposts%2F863526300476531.
Images Cited
Albert, Judy Gumbo. Concern about birth control to Pantsuit Nation. Facebook, 16 Nov. 2016, https://www.facebook.com/groups/pantsuitnation/permalink/1128652583899009/.
Davis, Meg. Social Media Post to Pantsuit Nation. Facebook, 22 Apr. 2018, https://www.facebook.com/groups/pantsuitnation/permalink/1804665312964396/?comment_id=1810084122422515&reply_comment_id=1811223262308601&notif_id=1524768465620782&notif_t=group_comment&ref=notif.
Rawlings, Holly. Abortion story to Pantsuit Nation. Facebook, 17 May 2017, https://www.facebook.com/groups/pantsuitnation/permalink/1473303089433955/.
Vucci, Evan. "President Donald Trump signs an executive order in the Oval Office of the White House, Monday, Jan. 23, 2017, in Washington." Humanosphere, 24 Jan. 2017, http://www.humanosphere.org/global-health/2017/01/trumps-gag-rule-endangers-the-lives-of-women-around-the-world/.