Sarah Red-Laird: Beekeeping as Part of the Bigger Picture: Agriculture and Apiculture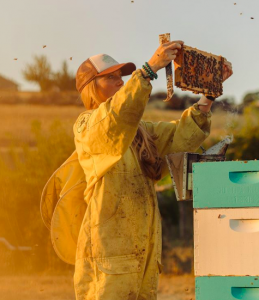 Sarah Red-Laird, founder and executive director of the Bee Girl organization, cannot think of a time that she wasn't really into bees, honey, and beekeeping, though the fascination most likely began around the age of three when she got her first bee sting. Sarah became a beekeeper as an undergraduate student at the University of Montana where she did her senior thesis on beekeeping and . 
The Bee Girl organization's mission is to educate and inspire communities to conserve bees, their flowers, and our countryside.  She envisions a future where kids frolic in pastures of flowers, buzzing with bees, alongside profitable family farmers and ranchers.  The organization's programs primarily focus on both bee habitat conservation and kid's education. 
"There's a huge need for beekeepers to talk to groups of kids and get kids excited about bees," says Sarah. Every year Bee Girl teaches "Kids and Bees" workshops across the world, instructing and encouraging fellow beekeepers to bridge children's fear to fascination by inviting them to learn about bees from an expert.  She also partners with the American Beekeeping Federation, the Eastern Apicultural Society, the Farmers Union, and other nonprofit collaborators in her home town of Ashland, Oregon, to reach a few hundred kids each year with the motto: Love Your Bees.
Sarah has quite a presence in her Oregon community, consistently making appearances at local farming, beekeeping, and environmental events.  She's toured five countries, two Canadian provinces, and 20 states speaking on the topics of kids education and bee habitat conservation.
During the first few years of her organization's founding, she taught evening beekeeping classes and a season-long hands-on beekeeping course.  Now, however, she has moved on from teaching beekeeping to turn as much time and attention as she can to her "Regenerative Bee Pasture" project.  This multi-pronged collaborative project aims to ensure there is an abundance and high diversity of bee-friendly flowers on as much of our agricultural landscapes as possible. 
Starting with soil health, native bees and honey bees, and beekeepers will be the end beneficiaries of this project.  As Regenerative Bee Pasture in Oregon grows, so will rural bee health.       
Bee Girl has also advocated for urban bees.  Beekeeping in Oregon has been legalized in every municipality in the southern region of the state.  Sarah and the board of directors worked hard to legalize beekeeping in Ashland city limits in 2012.  Since then, this ordinance has been used as a model for other municipalities to relax restrictions on beekeeping.
Despite the hard work of Bee Girl and other bee advocate groups, beekeepers still don't have it easy.  Looking back to her beekeeping educator days, Sarah says her beekeeping students didn't realize "how much work, how much learning, and how much commitment there actually is [to keeping bees]. There is little or no room for mistakes, which is surprising. It's a lot harder to keep bees than it is to have a cat or dog…or sometimes even a horse or chickens."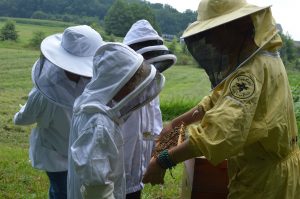 Her primary advice to new beekeepers is to be wary of how incredibly important (and other pest/disease) management is. Secondly, she advises, "if you are not living in an area that has hundreds of acres of flowers blooming year round, you need to consider supplementarily feeding your bees…if there is not food out there for them, you need to help them out."

Sarah takes a more holistic view of the larger picture of agriculture and soil management. She sees a need for a cultural shift in transitioning from an intensive, chemically dense system into a regenerative system. It's tricky but "we just need more and more success stories on the ground of people showing how it really is ecologically beneficial to farm regeneratively and sustainably." She continues, "It's so much more beneficial for pollinators, and our own health, to build soil with flowering plants instead of with nozzles."
an abnormal phenomenon that occurs when the majority of worker bees in a colony disappear, leaving behind a queen, plenty of food, and a few nurse bees to care for the remaining immature bees. While such disappearances have occurred sporadically throughout the history of apiculture, and have been known by various names (including disappearing disease, spring dwindle, May disease, autumn collapse, and fall dwindle disease), the syndrome was renamed colony collapse disorder in late 2006 in conjunction with a drastic rise in reports of disappearances of western honey bee (Apis mellifera) colonies in North America. Beekeepers in most European countries have observed a similar phenomenon since 1998, especially in Southern and Western Europe; the Northern Ireland Assembly received reports of a decline greater than 50%. The phenomenon became more global when it affected some Asian and African countries as well.
Varroa destructor (Varroa mite) is an external parasitic mite that attack and feeds on the honey bees Apis cerana and Apis mellifera. The disease caused by the mites is called varroosis. The Varroa mite can only reproduce in a honey bee colony.